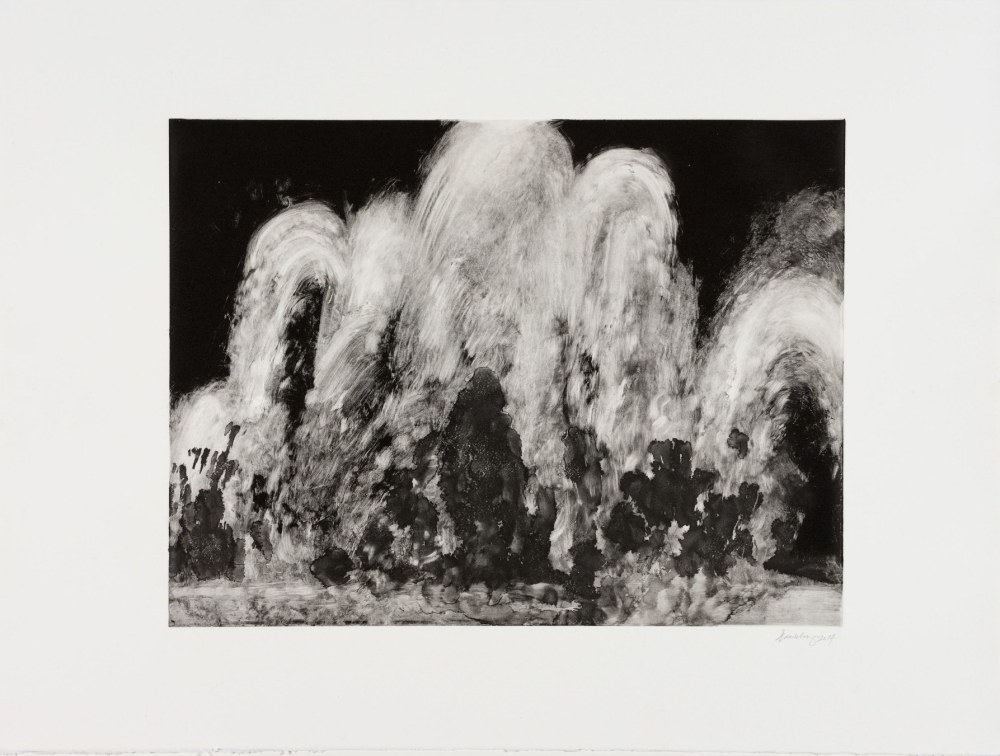 Marlborough Graphics New York and London are pleased to present Maggi Hambling: Wall of Water at the 2022 INK Miami Art Fair. Hambling's monotypes have their origins in the storm waters off the coast of Suffolk, the county in which she was born and still resides. Her works teeter on the edge of abstraction, convincingly conveying the crashing energy of the sea whilst simultaneously reflecting on mortality and the human condition- "If the sea eating away at the coast is time," Hambling says, "then I identify with that coast".
The exhibition will show a series of monotypes from Hambling's acclaimed and ongoing Wall of water cycle. These works, depicting explosions of water inspired by the experience of watching waves crash into a manmade sea wall, were created in the wake of the death of a close friend. The first in the series of Wall of water monotypes were shown at The State Hermitage Museum, St Petersburg (2013), The National Gallery, London (2016), CAFA Art Museum Beijing (2019) and, finally, the Guangdong Museum of Art, Guangzhou where they were acquired and are now in the permanent collection. The corresponding Wall of water paintings were first exhibited at The National Gallery London (2014) and paintings from this series are now held in the collections of CAFA, Beijing, the Guangdong Museum of Art, Guangzhou and the Metropolitan Museum of Art, New York. At the time of her show at The National Gallery, London, the artist commented "I feel younger now than I ever did when I was young. I seem to be painting more freely...I'm trying to paint death with as much life as I can." Marlborough's Art Basel Miami presentation includes important paintings from the Wall of water series.
Maggi Hambling (b. 1945, Sudbury, UK) has been at the forefront of the British art scene, and a celebrated gay icon, for several decades. She studied in the 1960s at Benton End, Suffolk (the legendary art school run by Cedric Morris and Arthur Lett Haines, where Lucian Freud was also a pupil), Ipswich School of Art, Camberwell School of Art, and the Slade. Over the last decade, she has staged major exhibitions at CAFA Art Museum, Beijing (2019), The British Museum, London (2016), The National Gallery, London (2014), and The State Hermitage Museum, Saint Petersburg (2013). She has achieved renown and controversy for her various public art commissions, whichinclude A Conversation with Oscar Wilde (1998) at Charing Cross, London, Scallop (2003) on Aldeburgh Beach, Suffolk, and A Sculpture for Mary Wollstonecraft (2020) at Newington Green, London.
Suites of Dorchester
1850 Collins Avenue
Miami Beach, FL 33139
Wednesday, November 30, 10AM - 4PM (Opening Brunch, Wednesday, November 30, 9AM - 12PM)
Thursday, December 1, 10AM - 8PM (Pulp Party, Thursday, December 1, 6PM - 9PM)
Friday, December 2, 10AM - 8PM
Saturday, December 3, 10AM - 8PM
Sunday, December 4, 10AM - 3PM